November 27, 2019
AIIMS, BDS, Career Counselling, Dentist, Doctor, Engineering, IIT-JEE, Jee Advanced, Jee Mains, kota, Medical, Neet, Non Medical, Tips
No Comments
There are very few coaching centers that have their focus on result orientation. Given the amount of money that one spends on coaching, it is imperative that the institute gives him all possible services at the right time and in the most efficient manner.
Talking about efficiency and results, one such institute that ensures that students are rendered the best possible service is Resonance Coaching Institute, Kota. It deserves to be mentioned in the list of best coaching centers that exist in Kota for the simple fact that it does not teach as just another business for the purpose of minting money.
In this article at Studydekho, we shall talk about the various courses provided here along with the features that set Resonance Coaching Institute, Kota apart from its competitive courses.
You can also check out related blogs and posts pertaining to engineering and other allied exams. Oh and, don't forget to take a look at JEE study tips that we have compiled exclusively for you. In fact, these tips are essentially for those who feel that their prep is not on the right track or that there is too much to do in too little time.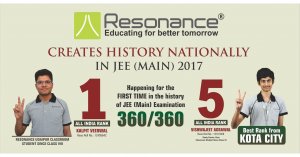 Resonance Coaching Institute, Kota believes in hard work. The team here has been committed to student welfare since its inception.
Courses:
Resonance Coaching Institute, Kota has a lot to offer to its students in terms of courses. Take a look at the courses as well as the fee structure for each course. We are sure you will get a brief idea of what this place has to offer.
JEE (Main+Advanced) for Class XI: this course is for 2 years and prepares students for engineering entrances along with board exams. One surely does not need to go to different coaching institutes for preparing for school as well a competition. The fee for this course is around Rs. 1,00,000.
JEE (Main+Advanced) for Class XII: this course is for students who have just entered their board class. Several students feel that they can prepare in a year and sit for the entrances. Well, for those, this course is the best. It is priced at around a lakh and prepares students for both, their board exams as well as their entrances.
JEE (Advanced): for those of you who have successfully managed to clear your mains, you can opt for this course as it is selective and provides coaching only for the Advanced stage.
Note: The amounts mentioned above are only for reference. Students are advised to visit the institute to know the exact details.
There are several features that set the institute apart from neighboring institutes:
Ambience: there are very few places in Kota that combine good learning with good ambiance. Resonance Coaching Institute, Kota is the perfect example of the same. One can spend time studying in the perfect manner possible and in a comfortable studying environment. For all the serious aspirants reading this article, take note of this!
Faculty: not all faculty members teach in all the batches at Resonance Coaching Institute, Kota. This means that even if you do not like a particular batch, you could shift to another so as to better your prep. Sit in a class that suits you and not where it suits the institute.
Doubt clearance classes: testimonies reveal that Resonance Coaching Institute, Kota has their doubt classes running at all times. In fact, if you have a doubt, you can rush to the teacher concerned right when you finish your class and not linger it on for long. It is trite that one is able to focus on the concept better when the nitty-gritty of the subject is clear.
Student shuffling: one unique feature of Resonance Coaching Institute, Kota is that the batch gets shuffled 2 twice or thrice a year. This means that you get to make new friends and at the same time, compare your performance with multiple numbers of aspirants to have a better idea of where you stand in the competition.
Study material: the study content provided here is exhaustive. One does not need to refer any other material. In fact, the material is abundant and one may need to selectively study so as to extract the best notes from the modules provided.
Motivational lectures: one of the biggest disadvantages of preparing for entrances is that one tends to get discouraged on account of low marks or rising competition. In order to cater to the stress levels of students, Resonance Coaching Institute, Kota organizes motivational lectures every now and then so as to keep students in high spirits.
Canteen: each floor has a different canteen. It provides food at affordable rates that surely don't burn a hole in your pocket. One can satisfy his appetite at any time, especially those who come to study here from far off places.
Sanitation: Resonance Coaching Institute, Kota provides a healthy and clean environment to its students so as to help them feel fresh and contribute their maximum while studying.
Test centers: another interesting feature of Resonance Coaching Institute, Kota is that it has test centers differently located from its original location. The reason behind this is that it wants to prepare students in an external environment so that they don't get bogged down at a new place on the exam day. This caters to the psychological aspect of the students.
Test series: Resonance Coaching Institute, Kota has a great collection of tests that offers a student a chance to live the exam every time they appear for it. The tests include questions that are tricky and also involve those that do not need a lot of time to comprehend. The mixed bag is prepared to meet the rising standards of engineering entrances.
Reviews:
A general survey of students at Resonance Coaching Institute, Kota reveals that it is a pleasure to study here since the comfort level is high and studying never seems a burden. The faculty is experienced and gives ample opportunities to students to clear their doubts. One feels lucky to be a part of the august institute. Resonance Coaching Institute, Kota is the ideal place for learning. The scientific temperament that is built over time is crucial for passing any exam. Moreover, one does not need to pay extra attention to the structure and plan of preparation. Resonance Coaching Institute, Kota takes care of the smallest of things to ensure that a student faces no hardship. Students who come from far off places also reveal that the hostels at Resonance Coaching Institute, Kota are a treat to be in. with the best facilities available here; one can fully concentrate on their studies and sweep the entrance exams with great ease.
So this was all about Resonance Coaching Institute, Kota. We hope that you liked our article and found the information given therein useful. You can get back to us at Studydekho for any query. Feel free to visit the institute personally to get a better idea of how things work there.
Remember, it is only hard work that would pay you in the end. Put in your best efforts and there is nothing that can stop you from making a mark in life.